Loft style is now very actively gaining popularity. Now there is a possibility to decorate in the favorite style not only walls, but also the floor. For this purpose, a special type of poured floors - microcement - is used.
Due to their characteristics, universal microcement coatings create a specific image of minimalism.
Microcement and microconcrete created on its basis have the finest structure allowing to fill even the thinnest cracks, easily level surfaces and strengthen the bond with any surface.
Microcement can be used in rooms of any purpose. Floors made of this type of material have special advantages:
The top surface layer is perfectly even. The absence of joints between coating sections eliminates debris in the cracks, creates a pleasant tactile sensation.
The presence in the mixture of the smallest quartz sand gives the surface increased wear resistance. This coating is free of cracking and no scratches are formed on its surface.
Moisture resistance of microconcrete allows its use in rooms with high humidity - in bathrooms, baths and swimming pools. Water falling on it does not absorb or destroy the structure.
The absence of combustible substances in the microcement composition makes the coatings on its basis fireproof.
Our team of craftsmen, who have extensive experience, will carry out for you a project of any complexity on the application of microcement imitating architectural concrete.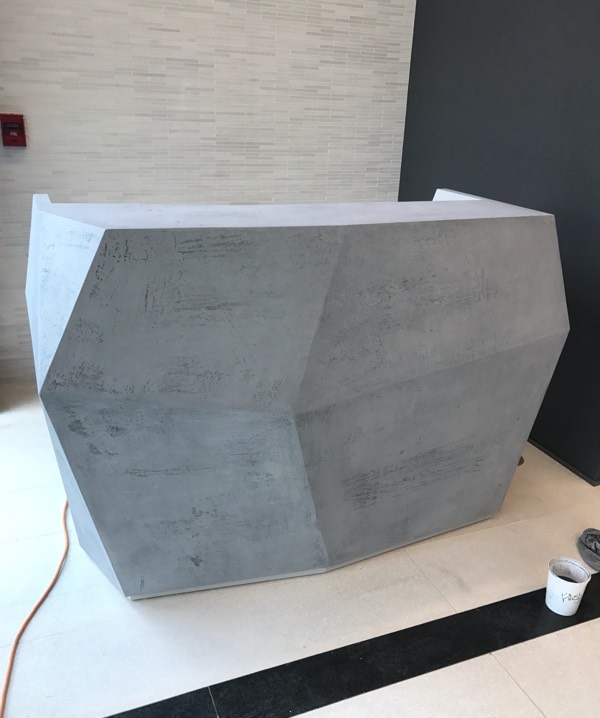 The coating will be ideal for most premises.
Apartments, houses, villas, terraces - no restrictions on heating, you can use warm floors along with microconcrete;
Industrial premises: shops, factories, plants;
Commercial premises: stores, shopping centers, restaurants, clubs, hospitals;
It can also be used as a flooring in sports halls;
When finishing floors in swimming pools, saunas.
Microcement application price depends on the room area and materials used in the microcement composition.
Our specialists will help you to calculate the cost of microcement coating, depending on the room type and area, just call us or order the floors through the form.
You can order the material in any required volume, picking up the desired color from our range.